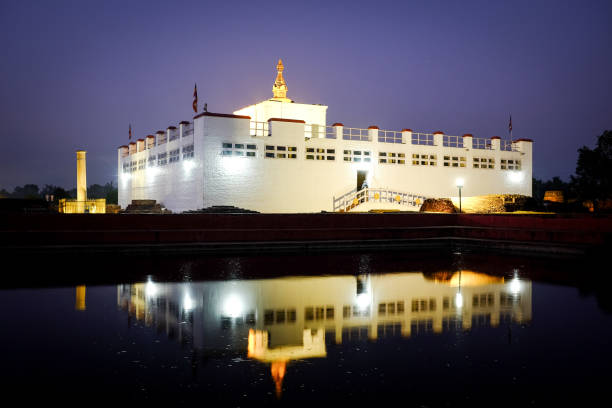 Lumbini
Lumbini, where the illustrious history of Buddhism began with the birth of Lord Gautam Buddha, is one of the world heritage sites in Nepal. Certainly, Lumbini brags of archaeological sites and cultural monuments in bountiful amount. Also, Lumbini is the torch bearer of the Buddhist faith that is spread across the world. Mayadevi Temple, the sacred Bodhi Tree, and numerous monasteries embellish the land blessed with serenity and holy legends.
Attractions
Situated in the southern Terai plains, Lumbini is a UNESCO world heritage site. As the destination has evident pertaining to the birth of Lord Gautam Buddha, the influence of Buddhism is plenty around the region. Perhaps, the Mayadevi Temple and the Ashoka Pillars are two of the most prominent figures in Lumbini. Offering a dream-like setting, the Mayadevi Temple and Ashoka Pillar face each other. The Pillar was erected by the Emperor Ashoka to indicate the exact birth-site of Lord Buddha in between the years of 268 to 232 BC. Similarly, the pond adjacent to these religious monuments adds to the tranquil environment.
Similarly, the Tilaurakot Palace yet another destination that attracts the interests of people across the world. The palace is renowned for its archaeological contents . These contents date back to the days of King Suddhodhan, father of Lord Buddha. In addition, the sacred Bodhi Tree and monasteries across Lumbini tale the tales of Siddhartha Gautam and his transformation into Lord Buddha. Thus, the land is famed as the Birthplace of Buddha. Similarly, Numerous other Buddhist nations like Korea, Thailand, China, and Myanmar have built monasteries reflecting the architecture of their respective culture. These are also significant destinations to the pilgrims and travelers alike.
Possible Travel Options
Therefore, Lumbini sits in the flat lands of Terai so, it is easily accessible. The transportation and accommodation facilities too are available in ample amount. Thus, Travelling Lumbini surely would be an unfogettable memory in your life.